About Us
With our more than 38 years in the field of industrial heaters, CRC Progetti has bee manufactoring electric HEATING RESISTANCES, tubular heating elements, immersion heaters, flange heaters, screw plug heaters, tubular elements, finned tubular elements, tank heaters, oven heaters and many others.
Quality, Innovation, Technical Excellence and Fast Delivery are the services we offer in solving our customer's process heating problems. Our custom fabrication facility is ideally suited to making new heaters or replacement flange heaters or any other sort of industrial heaters of any size.
Our Services
Being efficient means identifying critical issues and objectives to reach with our customers, proposing congenial solutions.
All this takes place thanks to the expertise developed by the technicians during the decades-long activity, at the end of a process that originates from the initial interview phase and continues in the design and realization of the products, to obtain the maximum result at the lowest cost.
We develop with the help of latest generation 2D and 3D computer systems.
Realization of prototypes
Graphic study with 3D processing software

Realization of scale models with 3D printing

Product construction based on customer design
Furnace regeneration
We are specialized in the complete regeneration of electric ovens in all components:
Heating elements
Insulators
Metal carpentry
Electrical connections
We also provide spare parts for repair and maintenance of ovens and heating systems:
Spare parts for bare wire oven resistances (spiral electric resistance, Greek shaped according to needs)
Replacement electric grill resistance (armored tubular – spare parts for industrial and civil electric oven resistances)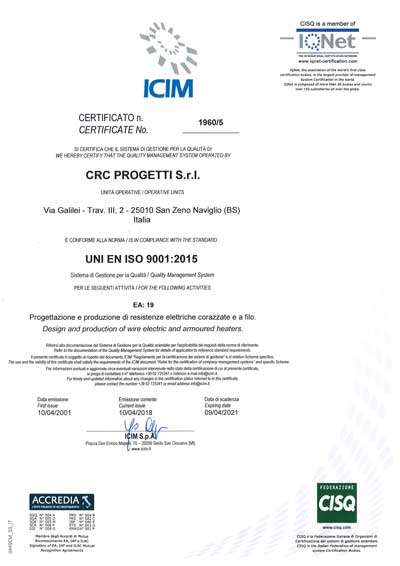 Certifications
The decades of experience in product design and development and continuous technical research are a guarantee of product quality.
During the design development phases, particular attention is paid to the choice of raw materials.
We collaborate with leading suppliers in the sectors to which they belong, ensuring customers the exclusive use of first choice materials.
ISO 9001: 2015 Quality Certification
The company is authorized to mark CE its products and has obtained the UNI EN ISO 9001: 2015 quality certification.